We were honored to host 22 USDA veterinarians for a training course !
Kloubec Koi Farm hosted the Iowa State University and USDA APHIS training course, Fin Fish: Foreign and Emerging Diseases . Twenty-two (22) USDA APHIS veterinarians from across the country, and Canada, participated in the 3-day training program. As part of the curriculum a fictitious scenario of an unidentified outbreak was portrayed by the ISU and Kloubec Koi Farm staff. The participants learned proper procedures to conduct and lead a FAD investigation when a fin fish pathogen is suspected. The mock-investigation provided hands-on training for accurate collection and handling of fin fish diagnostic specimens for laboratory submission, learning skills for conducting a farm visit and the accepted method for interviewing a fin fish producer (farmer). Myron Kloubec said, "This was an excellent opportunity to understand the proper protocols and most importantly for the vets to gain an knowledge from the side of the producer, and hopefully opening a new dialog between USDA/APHIS and farmers by keeping the lines of communication open, which will benefit the entire industry."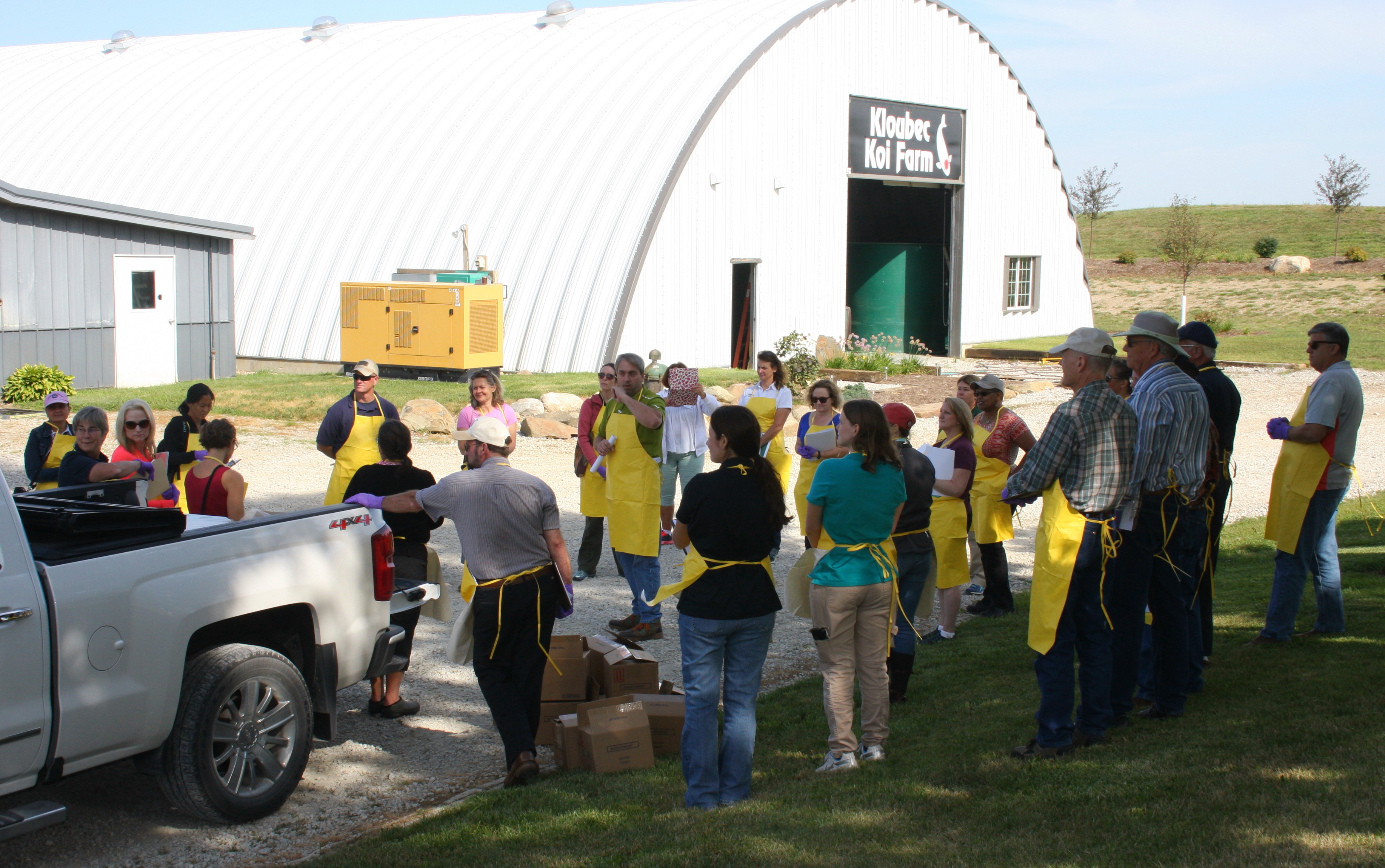 The group from ISU Ames and USDA-APHIS assembled at Kloubec Koi Farm to begin a 'mock-investigation'.

Veterinarians from all across the country and Canada attended.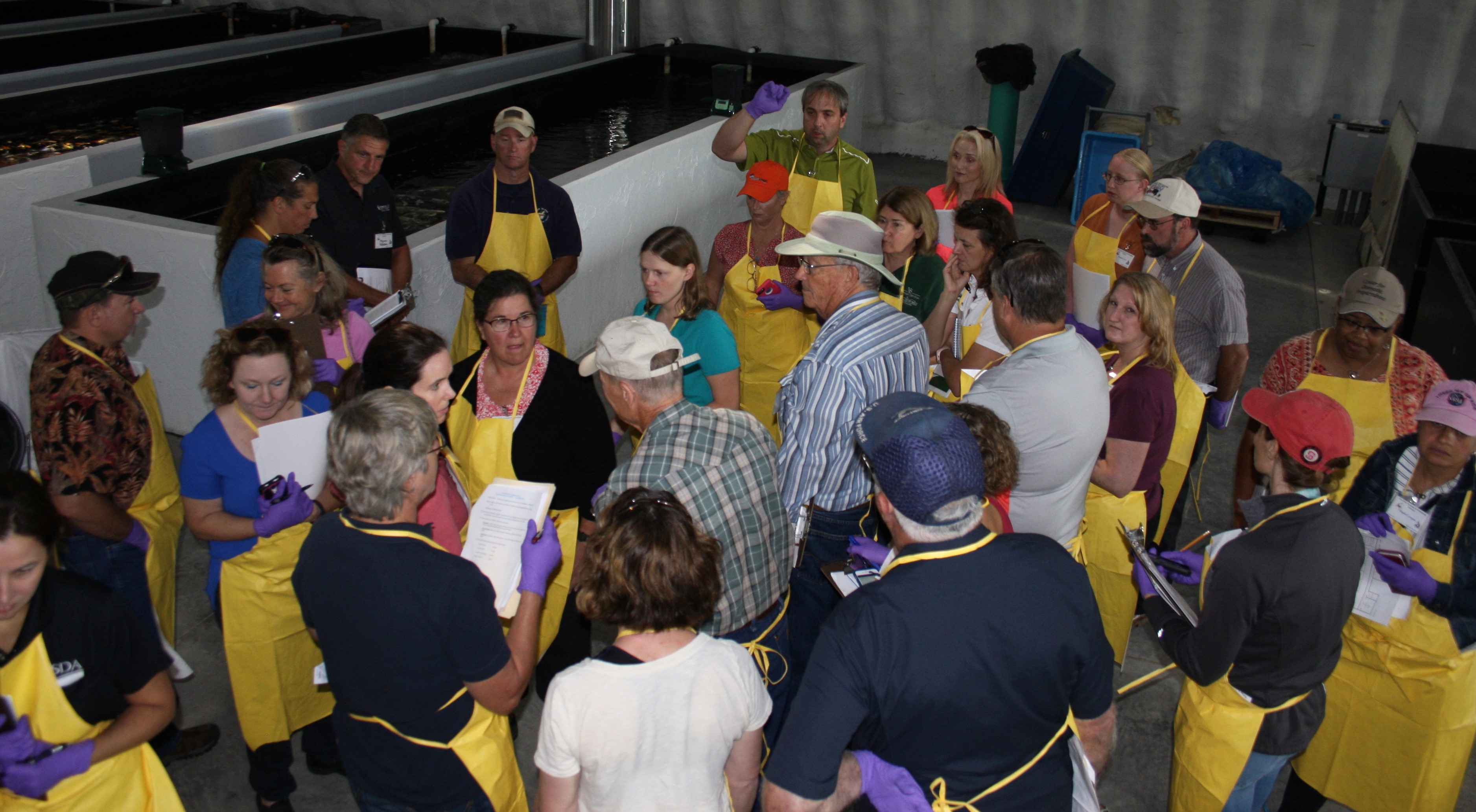 The vets posed questions and learned how to actively interact with the farmer/producer in non-controversial terms and assist in getting to the root of the staged problem. Myron performed role-play as the farmer/owner for the exercise.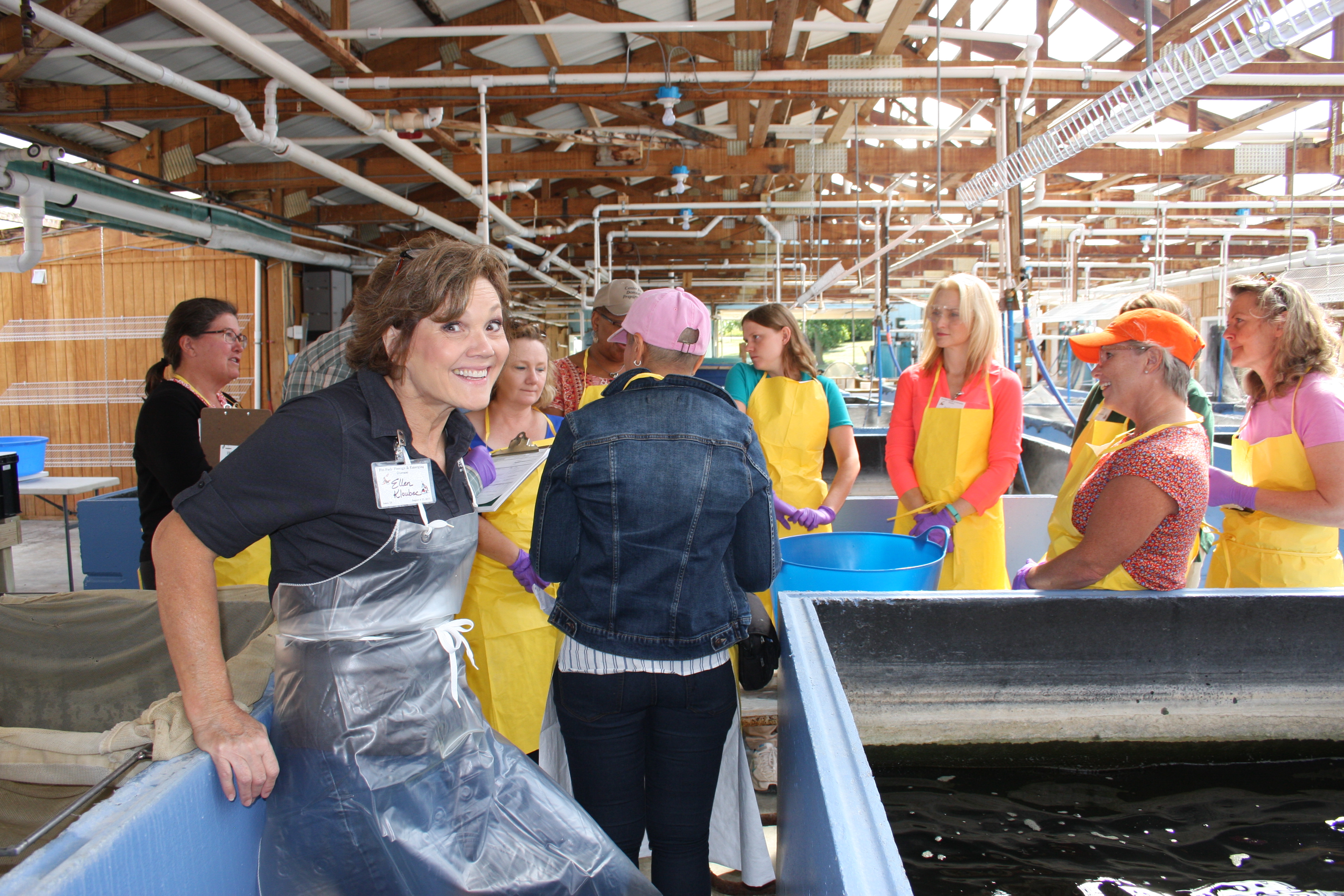 Ellen's role was to show the participants how to identify and select specimens from the group of Koi.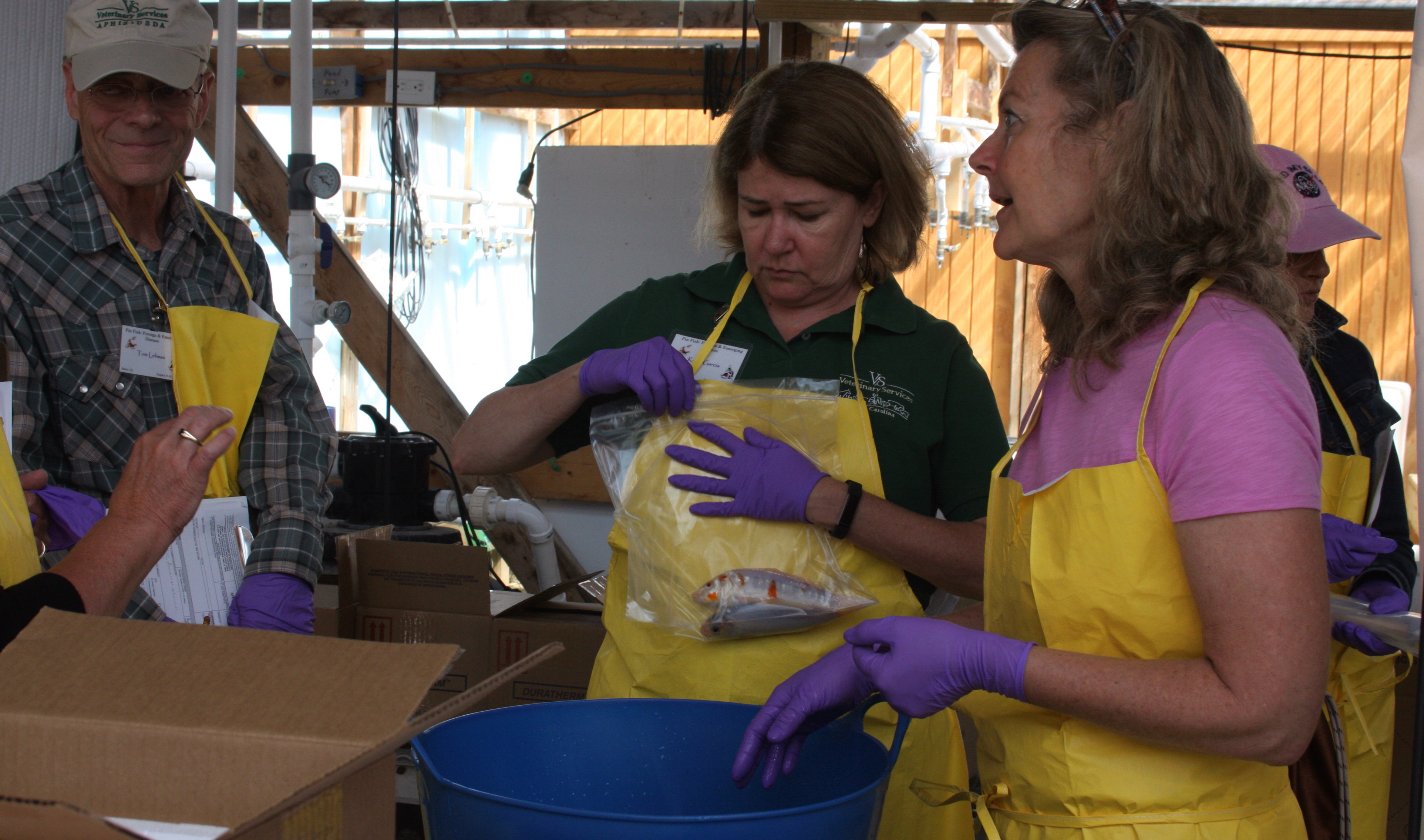 Instruction on proper protocol for on-site sample collection was taught and explained.Correct handling, labeling, and packaging methods were taught to obtain viable samples for submission to the lab.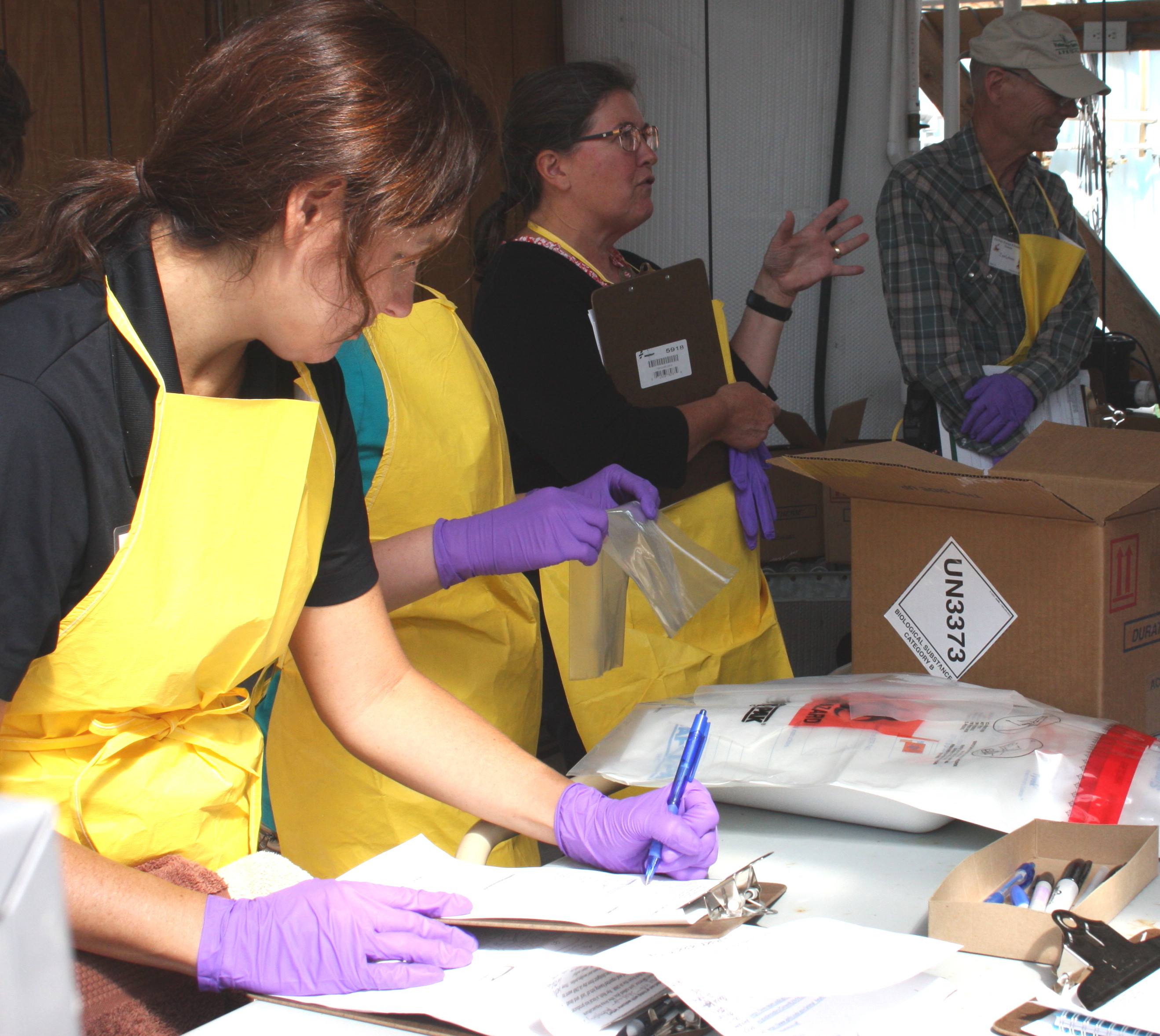 Success! The Fin Fish; Foreign & Emerging Diseases training program was a huge success. We will be pleased to host the bi-annual training course again soon.