So, you have a black and white koi and you're not sure if it is a Shiro Bekko or Shiro Utsuri. In this blog article I'll explain five easy ways to tell the difference between these two popular koi varieties. Use the illustrations as a visual guide.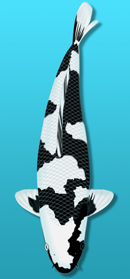 1.Color - B&W or W&B? The Shiro Bekko (sheer-oh be-coh)is a white fish with black markings. The Shiro Utsuri(sheer-o oot-sir-ē)is a black fish with white markings. However, some Shiro Utsuri are predominately white.
2.Spots vs. Bands: The Shiro Bekko variety will have Sumi (black) markings or spots on its body. These spots will be distinct and separate from each other. The Shiro Utsuri variety has wide bands of Sumi instead of individual spots. The black bands appear as large areas of color that may join together to form a checkerboard pattern.
3.Top vs. Wrap: On the Shiro Bekko the Sumi spots are positioned only on the top. They are visible on the koi's back and above the lateral line. Whereas, on the Shiro Utsuri the black bands wrap around the sides and often down to the belly.
4.Clean face or patterned face? A Shiro Bekko should have no Sumi on the head or face. It should have a clean head that is the same color as the overall body color. Just the opposite for Shiro Utsuri. On the Utsuri head you will find interesting black patterns, often dividing the face in half. If a heavy black pattern starts on the face and continues the length of the koi, then you are looking at an Utsuri.
5.Check out those pects! The Shiro Bekko should have clean white pectoral fins, although an occasional black stripe may occur. With the Shiro Utsuri you should see black pigment in the pectoral joint of the fin; this feature is called Motogoro. Although not every Utsuri will exhibit this trait, some may have heavily striped pectoral fins, as well as stripes in the dorsal and caudal fins.
The Bekko and Utsuri varieties are also produced in other colors. You may occasionally find the red and black coloring, as well as the rare yellow and black type. A red based Bekko is called Aka Bekko. A yellow based Bekko is the Ki Bekko. Similarly, the red based Utsuri is called Hi Utsuri. Those with a yellow base are Ki Utsuri.
Regardless of the base color, you can identify the Bekko or Utsuri variety using the same guidelines listed above.
Be sure to check out the illustrations of many koi varieties on our website. Follow this link to view them all. http://www.kloubeckoi.com/ellens-koi-education/
~EK