Quarantine - Kloubec has the most advanced quarantine facility in the nation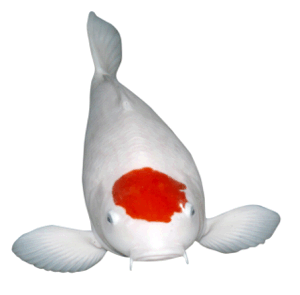 Koi Health - Kloubec's focus on Koi health

Guaranteed - Kloubec Koi Farm guarantees its Koi

Experience - Kloubec has over 33 years aquaculture experience

Customer Service - Kloubec is #1 in customer service

Free Shipping - Kloubec offers FREE shipping
Best Quarantine Facility in the Nation
Kloubec Koi Farm has the most advanced Koi quarantine facility in the nation. You can rest assured that all Koi and Butterfly Koi purchased from this website have gone through extensive quarantine procedures at the Kloubec Koi Farm. Our quarantine greenhouse has over 9000 sq feet of space and 50,000 gallons of quarantine tanks for live koi. It is equipped with state-of-the-art water filtration, water purification and sterilization processes to obtain a pristine environment for our koi fish. Our quarantine facility has 3 separate closed systems, utilizing three types of engineered fluidized sand filtration that we call 'cloud filters'. It also incorporates ozone and R/O capabilities designed for bacterial reduction and control. Each and every Koi produced and shipped from the Kloubec Koi Farm has gone through an extensive quarantine procedure to ensure optimum koi health. We wouldn't have it any other way!
Koi Health is #1
Whether our Koi go into a high-end hobbyist's koi pond, backyard garden pond, a water feature, or for sale in a retail tank system optimum koi health is Myron Kloubec's number one goal. For the past 33 years superior koi health has been Myron's focus at the Kloubec Koi Farm. Myron personally monitors koi health daily in both the mud-ponds and our indoor facilities. He can generally be found in the lab doing skin scrapes or running water tests. His tireless efforts have made Kloubec Koi Farm your best choice for purchasing healthy, hardy and happy koi fish that will give you many years of enjoyment. In addition, the Kloubec Koi Farm has never had KHV or SVC, and we take extraordinary steps to ensure that our perfect record will continue.
Our Koi are Guaranteed – Shipped via UPS – FREE Shipping
We guarantee live healthy delivery of every koi shipped from our farm. Each shipments progress is monitored during its voyage via real-time data provided by the carrier, United Parcel Service. All koi shipments are processed for shipping late in the evening and are sent by UPS Next Day Air Service. Most locations receive their koi shipment by 10:30 AM the following morning. This method of door-to-door shipping has proved itself superior over commercial flights time and time again. You actually save time and money with UPS Next Day Air Service. No driving to an airport, parking or flight delay hassles.
In addition, we go to extreme measures to package the koi so they reach their destination in perfect condition. Your koi will arrive at your door in a heavy- gauge cardboard shipping container. Inside you'll find a water and oxygen filled double poly-bag tucked into a high-quality soft, inflated and insulated bubble airliner that has protected your precious fish while in transit. When necessary, polar ice packs are included to maintain the perfect temperature for your koi's comfort. And, as an added value, you will receive FREE shipping on all Koi orders over $399.00! *Canadian shipments not included.
So, sit back, relax, and let us take the worry out of shipping your koi.
We Have the Experience – #1 in Customer Service
The Kloubec Koi Farm is family owned and operated, and is a third generation aquaculture business with over 50 mud-ponds on 80 acres in Amana, Iowa. What began as a hobby back in the 1970's has grown into one of the largest and most trusted koi farms in the country. Myron & Ellen Kloubec, with their son Nick, have over 80 years combined aquaculture experience. Their unique knowledge and background in fish farming and aquaculture provide an excellent source for the finest koi in the USA.
Our customer service is also top-notch. When you purchase fish from Kloubec Koi Farm you can be sure that we are truly interested in providing you with the best koi that we have to offer as well as a commitment to service after the sale. We're here for you! We will give you assistance even months later. Our reputation for customer service is the best in the industry, and that is important to us. We are interested in providing you with the highest quality live koi on the market and we stand behind every sale.
Like our motto states;
……………. the Healthiest & Hardiest Koi in the USA! We take pride and a personal interest in our customers and appreciate their business; because our name is on every Kloubec Koi.